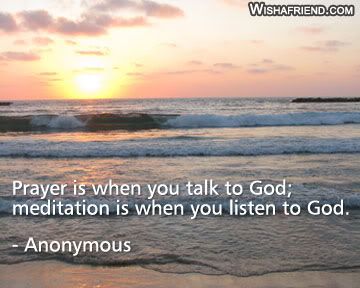 Myspace Quotes, Prayer Quotes at WishAFriend.com
MEDITATION
Christian meditation, article by Jack McCoy
Christian Meditation Techniques
Guided Meditations from Self-Realization Fellowship
Heart Rhythm Meditation (Prayer of the Heart or the Jesus Prayer)
Interlude: An Internet Retreat- A Place to Renew the Spirit
Lectio Divina - Divine Reading
Meditainment - Guided Meditation downloads
Online Guided Meditation Audios
Resting in God: Guided Audio Meditations (Real Player)
The 23rd Psalm: Audiovisual Devotional
The Art of Contemplative Prayer
The Center for Contemplative Mind in Society
The Fellowship of Contemplative Prayer
The Voice in the Stillness: An Overview of some Christian Ways of Meditation
Wikipedia: Christian Meditation
Focussing Our Minds and Hearts
How can we stay in solitude when we feel that deep urge to be distracted by people and events? The most simple way is to focus our minds and hearts on a word or picture that reminds us of God. By repeating quietly: "The Lord is my shepherd, there is nothing I shall want," or by gazing lovingly at an icon of Jesus, we can bring our restless minds to some rest and experience a gentle divine presence.

This doesn't happen overnight. It asks a faithful practice. But when we spend a few moments every day just being with God, our endless distractions will gradually disappear.
Henri J.M. Nouwen
ROSARY
Can a Lutheran pray the Rosary?
Full Rosary Prayer Card (pdf)
Holy Cross Family Ministries: Request a Rosary for free!
How to make Cheap Rosaries for Favors
How to pray the Protestant Rosary
Is the Rosary more about Mary than Jesus?
Picture Beads: Meditate on the mysteries, with a picture for every bead of Rosary
Praying the Goddess Mary Rosary
Researching Historical Rosaries
Rosaries of Divine Union: Rosaries for the Contemplative Dimension of Prayer
Sacred Strands - Prayer Bead Resources for Spiritual Seekers
The Jesus Prayer and the Rosary
The Peace Prayer of St. Francis Rosary
The Secret of the Rosary by St. Louis De Montfort